Adapt, Be Flexible, Stay True
The first few months of 2020 have seen endless disruption to most businesses and organisations as a result of the impact of the Coronavirus pandemic.
Most will have seen disruption impacting their businesses negatively, a minority have seen some positive financial impacts through increased demand for their products and services.
But irrespective of whether the direct commercial impact is positive or negative the good ones have stayed true to their purpose and adapted how they reach their consumers, customers, colleagues and members by adapting what they provide, often dramatically, ensuring they maintain those critical relationships through what is a difficult time for people too.
We wanted to feature some of the things we have seen our clients and associates do to support their own audiences. We have assisted some of them in promoting these efforts, and have learnt a great deal about how to repurpose a company mission and objective and how to maintain engagement with their customers, users or target audiences for a wide range of companies
Elifinty is a smart money app that gives back control, predicts and simplifies money issues.
During the recent disruption caused by the effects of the coronavirus pandemic the Elifinty team have developed an easy to use resource centre, a Coronavirus Lighthouse, that helps anyone  at all, app user or not, find addiitonal information that may help them in their circumstances during this period of additional financial strain.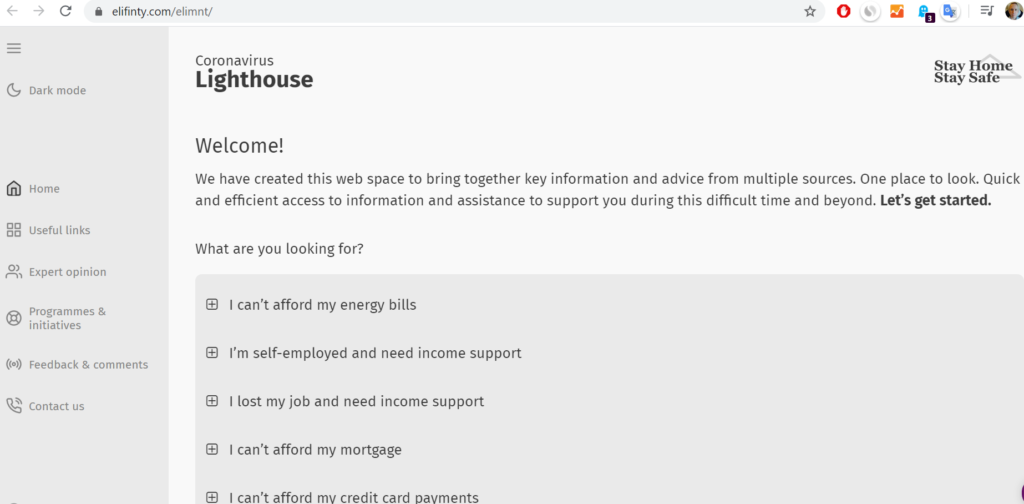 Penguin Random House have adapted many of their scheduled live events and made them available to watch live, from home, free of charge and available to view later on demand too.
Events have been from a diverse range of authors and writers including feminist campaigner Caroline Criado Perez, author Marian Keyes, astronaut Tim Peake sharing tips on dealing with lockdown, Ruby Wax to talk about stress and how to deal with it and bestselling cookbook author Melissa Hemsley.
You can view upcoming At Home with Penguin events on their website and view previous events on their website or the Penguin Books YouTube channel.
The Jack and Ada Beattie Foundation
We first came across the Jack and Ada Beattie Foundation in 2019, via the Bank of Mum and Dad initiative. We were sufficiently encouraged by their work and purpose that we made a small donation to support them in their support of others to help people recover from difficult financial positions.
Once the crisis broke out, they recognised the specific needs that people impacted might have that perhaps didn't fit their Bank of Mum and Dad project and rapidly launched Tons Of Help in order to make quicker, smaller grants available to those finding themselves in desperate need.
Terrific effort all round and we are pleased to continue to extend our offer of help whenever they may feel they need it.